Summer Camp
Welcome to Camp ADAT – Explore, Design, Build
A community where anything is possible!
"What ifs" become "how tos."
Dreamers become doers.
And big thinkers change the world.
Camp Adat is a unique, values centered, design thinking summer camp, where we nurture empathy, encourage ideas, and let kids go wild. Through the steps of design thinking (understanding a problem, brainstorming solutions, testing and refining), our campers are encouraged to create, craft, tinker, DIY, hack, code, learn, and quite possibly make impactful change. Plus, they will have so much fun they will never want to go home.
Amy George
Camp Director
Camp Units:
Tinker Makers - Entering TK, K, & 1st grade
Innovators - Entering 2nd & 3rd grades
Designers - Entering 4th, 5th, & 6th grades
Session Dates:
Weeks of camp are:
June 17 - 21 - Fabulous Farms
June 24 - 28 - Toy Story
July 1 - 5 -Awesome Aquariums
July 8 - 12 - Terrific Trampolines
July 15 - 19 - Water Fun
July 22 - 26 - Dogs
July 29- Aug 2 - Amazing Animals
Important Info:
Early drop off available starting at 8 a.m.
Extended day care available until 5:30 p.m.
Hot lunch will be provided for an extra charge.
Field Trips are a minimal additional cost.
There will be a pool on campus for swimming with a certified lifeguard.
1 Camp T-shirt is included in camp tuition.
Project Ideas:
Each week of camp will consist of a field trip that will inspire a design project that will promote:
CREATIVITY
PROBLEM SOLVING
TEAMWORK
Our projects will be connected to the week's theme and Fridays will be used to share our finished design projects with the entire camp community!
Amazing Race Week: A field trip to the go cart track; design challenges include creating vehicles that move on their own; Lego zip line races; a soap box derby.
Animation Week: A field trip to an animated film, Claymation, or Stop Motion Animation studio. Design challenges include Lego Science Projects, Harry Potter slime, design a better broomstick.
Wonderful Water: A trip to the water park; design our own water park at school; design challenges include making flotation devices for action figures.
To Register:
For more info please contact Amy George: ageorge@aaeds.org or 818.766.4992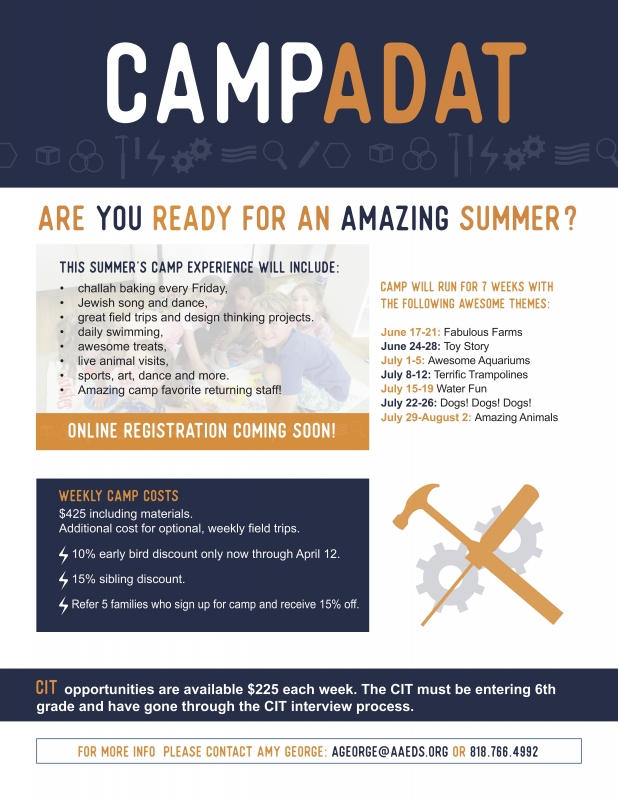 Wed, September 22 2021
16 Tishrei 5782
Wed, September 22 2021 16 Tishrei 5782