Lea Glitman-Alkalai Memorial Music Fund
Lea Glitman-Alkalai Memorial Music Fund
The Alkalai Memorial Music Fund was established in Lea Glitman-Alkalai's memory to bring the gift of music to the Adat Ari El community and beyond.

To donate to the Alkalai Memorial Music Fund
Click Here
Please choose Lea Glitman-Alkalai Music Fund from the drop down menu when making your donation.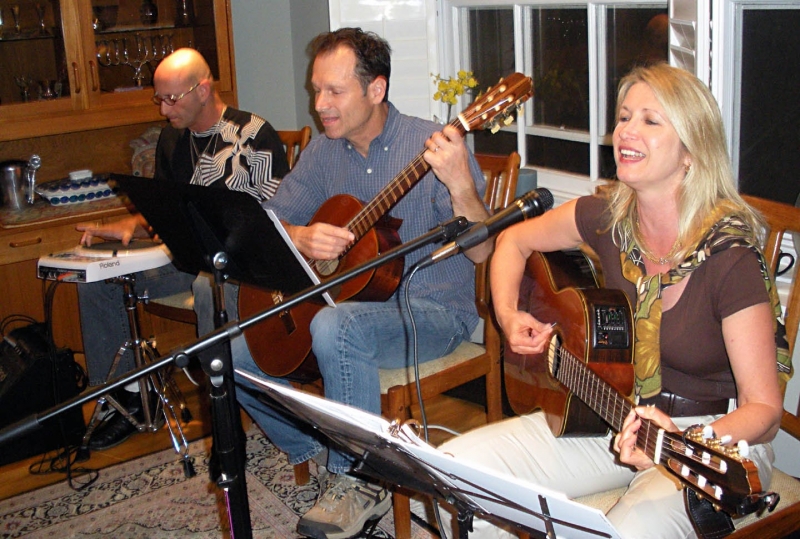 More About Lea Glitman-Alkalai (1957-2017)
On February 14th 2017, our beloved Lea passed away from complications due to the sudden onset of metastatic melanoma. Her extended family in Israel and in Los Angeles and numerous friends across the world mourn her sudden passing. She leaves behind her three boys, Daniel (27), Jonathan (23) and Adam, (20), and her beloved and devoted husband Leon Alkalai.
Lea was very passionate about many things in life: her boys, her friends, her work as an architect, her Valley Professional Network Group, her many Havurah friends, and in particular Lea was very passionate about her music. Over the past 10 years, Lea performed 28 concerts to the Israeli and Jewish communities across Los Angeles.
Lea was discovered in Israel during a talent show in 1973 when she was only 16 years old as she performed songs by Bob Dylan, Joan Baez, Simon and Garfunkel and the Beatles. She studied architecture at the ORT school in Tel Aviv, and then served the Israeli Defense Forces (IDF) in the Nahal unit where she also performed and sang songs in an army band. After serving in the IDF, Lea applied and was selected to be a music instructor at a Jewish camp in Atlantic City, NJ. Subsequently, she was accepted to study architecture at the famous Southern California Institute of Architecture (SCI-ARC) where she earned her architecture degree.
After graduating from SCI-ARC, Lea met Leon Alkalai at UCLA where Leon was doing his PhD studies in Computer Science. Leon and Lea married in 1987 and soon thereafter joined the AAE family where all three boys attended pre-school and elementary school.
In memory of their beloved mother and wife, the Alkalai Family decided to honor her memory by creating the Lea Glitman-Alkalai Music Fund that will be administered by Cantor Judy Aranoff. This fund will be used to organize music events such as concerts at AAE in memory of Lea and further the love for music among the Jewish communities of Los Angeles and Israel.
Sat, December 2 2023
19 Kislev 5784
Sat, December 2 2023 19 Kislev 5784